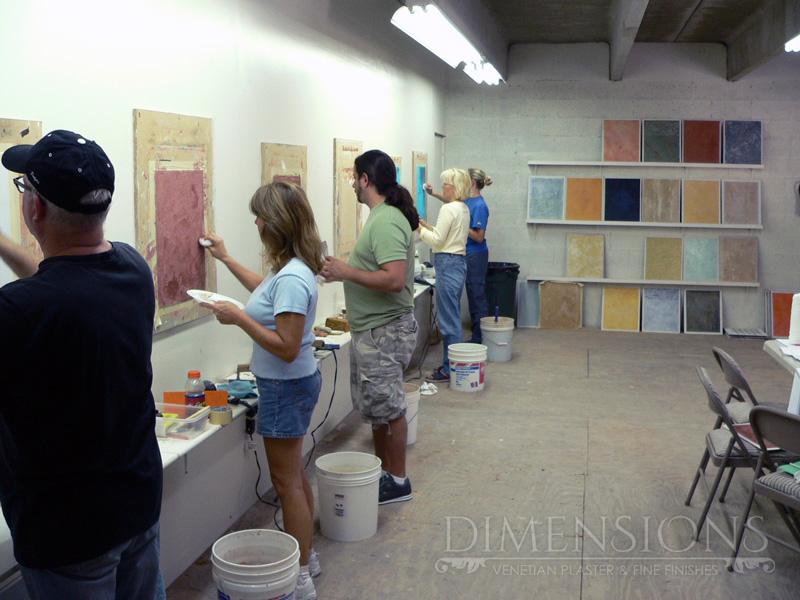 First Level & Advanced Class
First Level
Learn the proper techniques of applying Italian lime plaster in 1 & 2 coats. You will create traditional as well as contemporary finishes.  The history of lime and the carbonation process is included in this workshop, giving the applicator a thorough  knowledge of the products, as well as a respect for the tradition of the process.  4-5 sample boards are completed each day. Lunch and snacks included.  Class discount on products.  Call for more information:  561-863-4009
Advanced
This class is for the experienced artisan who wants to add to his/her knowledge, and learn some new creative techniques.  Artisans are free to use all our products, and "play", as well as receive instruction in specific  techniques.
The samples created in class are multi-layered ( 3-5) and will add dimension to any portfolio.  Lunch and  snacks included.
Class discount on  all products.  Please call for information:  561-863-4009
Custom Private Class
This is a class specifically designed for those  that would like to learn how to create only the finishes they are interested in.
Pre-requisite:  knowledge  of how to trowel  with plaster.  Class may be 1 day or  more, tailored to the student's schedule.
Call  for  more information:  561-863-4009
VENETIAN PLASTER CLASS
Call  (561)863-4009 or email (nina@iplaster.com) to register.
"I use Dimensions plaster exclusively to complete all my plaster projects. I have no need to seek out alternative suppliers when they provide both a phenomenal product and the service to match. I feel completely confident that every project will receive an on time delivery and a perfectly mixed color."