Dimensions Venetian Plaster
Dimensions provides the highest quality Venetian plasters, training, and on-going technical support to a wide variety of detail-oriented designers, deadline-driven architects, builders, and discerning artisans alike. Now in our 15th year of business, we take great pride in having cultivated such a loyal customer base.
About the owner
Nina Zubkova established Dimensions International in 2004, to bring high quality natural Italian  lime plasters  and pigments  to the US  market. Nina apprenticed for 2 years with French and Italian Masters with the intent  of sharing her knowledge  of the European  techniques   with U.S. professional applicators. Prior to "discovering" Italian  lime  plaster,  Nina owned an art gallery, and was  a faux  finisher.
Nina was introduced to authentic lime  plasters  on a trip to Provence  with other artisans. They spent weeks restoring  an 11th century chapel  in the Languedoc  region of France.   These  Italian plasters  and pigments were used  to create frescos on the walls, and Nina  fell  in love  with the history, authenticity, and organic  qualities of  lime .
In 2004, Nina opened Dimensions, a full service showroom/studio/warehouse facility in Palm Beach county, Florida. Dimensions distributes Italian lime plasters and related products throughout the US and Caribbean.  As business grew Dimensions services expanded into doing installations.
Installation:
Dimensions artisans are highly trained and talented professionals that have been working with Italian lime plaster for 12+ years.  They have travelled across America, and the Caribbean to install Italian  lime plaster, gold leaf, and lime paint. The artisans  are  also skilled  in faux  finishes.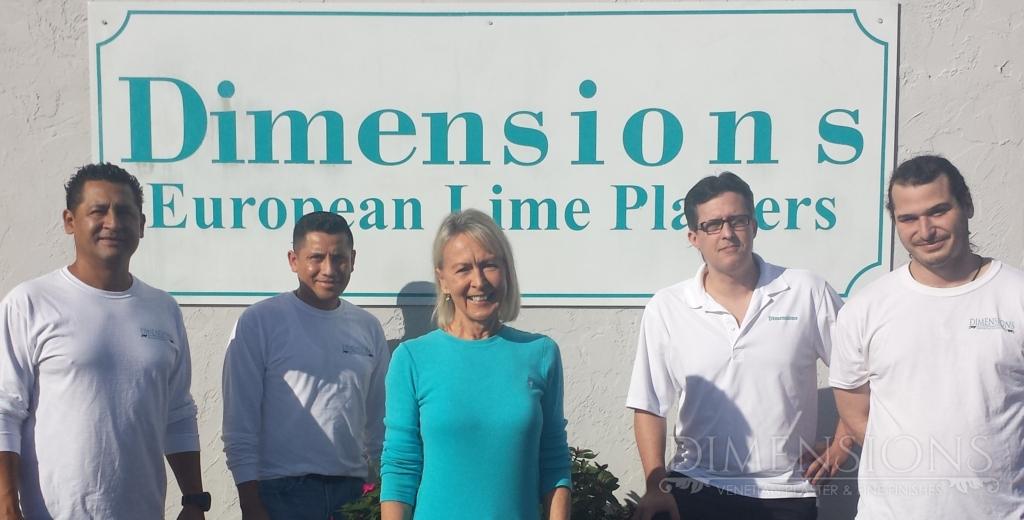 The Process
Dimensions sources only the finest authentic slaked and hydrated lime plasters directly from northern Italy. Over 5,000 years ago the process for transforming only limestone, water and marble (and nothing else) into exquisite wall finishes was perfected. Today, the process remains intact and nearly identical, save only swapping machinery for manpower in order to increase production and overall efficiency. Our products are 95% + bio-based, without chemical additives, and the difference is noticeable immediately. Our products have No APEO, No HCHO, No PEG, No PG. Dimensions can color-match any paint chip from Benjamin Moore, Sherwin-Williams, and Farrow & Ball.
The Quality
All Dimensions plasters are mold & mildew resistant, thanks to their extra high lime content. Every bucket smells like a combination of earth and stone. If you've ever worked indoors with synthetic plasters then you will truly appreciate the natural, earthy scent of all of our plasters. The plaster smells like earth and stone because it is earth and stone…when the water evaporates from the wall, a limestone veneer is all that remains.
I don't know what to say, you've gone above and beyond what anyone would expect.  You've got a great product and customer service as well.  Fantastic!  I can't thank you enough.
I was at a job site where we did a lot of Marmorino 8 years ago.  It may have been my first large order with you.  It looks as good now as it did then.  A great testimonial to the durability of the plaster.
Dimensions consistently provides us with superior customer service, and superior products, along with technical support. We can provide our clients with a time-tested, "green" finish that is cost effective, durable, and beautiful for interior and exterior walls.
Our installers prefer Dimensions specialty plaster products because of their superior characteristics from ease of use, to deep luster, and all natural properties which make our installations flawless and keep our clients amazed. Nina is always there to provide quick assistance for material and color matching.
It's my pleasure to recommend Dimensions as a premiere plaster distributor. From quality product, to product knowledge and presentation, Dimensions sets themselves apart. When you add their impeccable customer service, it's easy to see why I continue coming back!